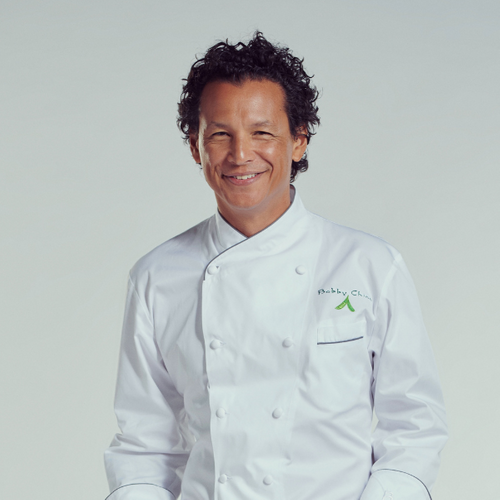 Bobby Chinn
Media Personality and Celebrity
,
Chef
Bobby Chinn is a true citizen of the world and his nomadic life journey has so far taken him from New Zealand to the Middle East via the UK, the US and South East Asia. With every new country he discovered a new culinary adventure, while at home his Sino-Egyptian heritage provided a deeper foundation for his interest in, and eventual passion for, all things 'food'.
By age 5 Bobby was hooked on fellow Kiwi Graham Kerr's "The Galloping Gourmet", while Julia Child piqued an early interest in more complex French cuisine. He was a keen and attentive student in the family kitchen, embracing every opportunity to roll up his sleeves and join in, when his grandmothers would allow him! Here, Bobby not only learned the basics of traditional Asian and North African homestyle cooking, but he developed the ability to discern good food from bad, a skill he only became conscious of after moving to England at age 10 and discovering that food could, in fact, be a horrible experience!
A passionate amateur through his teens and into his twenties, it was in San Francisco that Bobby had the rare opportunity to develop his professional expertise under the tutelage of Hubert Keller (Fleur de Lys), and Elka Gilmore and Traci des Jardins (Elka, The Miyako Hotel). Continually practicing and refining the techniques he learned, Bobby soon developed his own singularstyle, traversing the Pacific divide to blend fresh Asian flavours with a distinctive and health-conscious Californian vibe.
While working as the saucier at Coconut Grove, Bobby sustained a crippling back injury which confined him to his bed for a full year. Never one to waste an opportunity, Bobby used the period of incapacitation between surgery and eventual rehabilitation to read and research the technical and theoretical elements of his vocation. The depth and breadth of new knowledge he acquired served as a perfect complement to his practical skills, and while a legal technicality prohibited him from working as a Chef in California, he emerged from this experience undaunted and determined that cooking was to be his destiny.
Having read 'Burgundy Stars', the biography of Bernard Loiseau and his diehard quest for a 3rd Michelin Star at the prestigious La Côte d'Or Saulieu, Bobby was both invigorated and inspired. He upped sticks once more, this time headed for France to fortify his talent working as a stagiaire. In his scant freetime, Bobby never stopped learning, and supplemented his training by dining his way around the sidestreet bistros and great restaurants of Paris and Bordeaux, documenting and digesting every detail.
On completion of his stage Bobby remained restless in his search for authentic culinary experiences, and his wanderlust brought him to Vietnam, where he would spend the next 22 years developing and perfecting modern Vietnamese cuisine. After a short time in Ho Chi Minh City, Bobby moved North and spent many years as a street-food aficionado, exploring the back-alleys and food-carts, diligently cataloguing traditional family recipes and unlocking secrets normally shared only from generation to generation.
And here it was, in Hanoi, that it all came together: a multi-cultural upbringing, world-class training, patience, dedication and a genuine passion for real food and real people. Bobby Chinn's larger-thanlife and inimitable character is conspicuous in the food he creates, where every dish served is a story told.