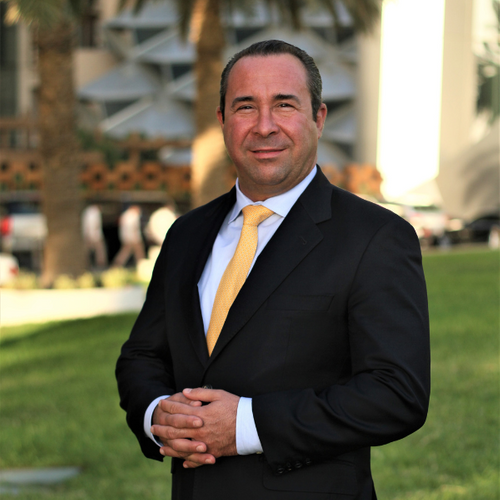 Cladys Magagna
Corporate Director
,
Khozama Investment Company
Born and raised in Cossato, a small village in Italy, Cladys brings a wealth of expertise in the Kingdom of Saudi Arabia, with an experience spanning over 25 years within renowned European restaurants, as well as leading hospitality companies and culinary institutions. He began his career in 1995 in his native country, Italy, at the Botticella Restaurant as a Chef, and from there held progressive managerial positions in different restaurants, such as Martinelli and Novelli in Austria, Vienna a 1 Michelin star.
Cladys moved in New York in 2002 working as Corporate Executive Chef and Culinary Instructor at the Italian Culinary Institute where he oversaw two magazines, Italian Cooking & Living and the Magazine of La Cucina Italiana, in addition to developing culinary courses, organizing menus and dining layouts for clients, as well as creating thousands of recipes for publications.
In 2005, he joined The Abraham Lincoln – Wyndham Historic Hotel in Pennsylvania as the Executive Chef in charge of managing the kitchen and developing 3 new restaurants concepts into the market.
In 2006 Cladys joined Fairmont Hotels & Resorts at the Fairmont Southampton in Bermuda and went to hold key leadership positions, including Executive Chef for both the Fairmont Acapulco Princess and the Fairmont Pierre Marques in Mexico, overseeing the entire kitchen operation for both properties, with a total of 24 restaurants, comprising over 478 colleagues, and a banqueting operation that could accommodate over 3000 guests.
From 2012 to 2017 he moved to UAE working for the iconic Fairmont Bab Al Bahr as Executive Chef in charge of F&B, looking after high-end restaurants brand such as Marco Pierre White and Frankie's Italian. In February 2014 he was named "Executive Chef of the Year" by the Gourmet Abu Dhabi Award and in 2015 he won the 1st place in Al Dhafra Camel Festival Competition among 15 five-star Hotels in Abu Dhabi. In 2017 Cladys joined then Al Faisaliah and Al Khozama Hotels in KSA as a Director of Culinary, appointed to Director of Food and Beverage in 2019 overseer a USD 51 million dollar plus annual turnover and over 500,000 thousand food covers per annum. In 2022 Cladys moved to Al Khozama HQ, spearheading the growth & expansion strategies of existing and new F&B concepts, driving innovation in areas of service and culinary of all AK managed Hotels in KSA, Mode Mall, Franchised Restaurants, and homegrown dining concepts, building and mature partnerships with top-tier brands, such as Hakkasan, Yauatcha, LPM, Mamo and Meraki. Cladys holds a master's degree in food and Beverage Management & Hospitality Marketing from Cornell University in New York, a Bachelor's Degree in Business Administration from Arden University, a culinary certificate from the American Culinary Federation (ACF) in New York and a Certification from the Italian Culinary Federation (FIC) in Italy. He lives with his wife and son in Riyadh