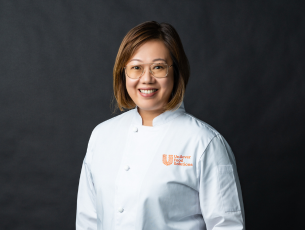 Joanne Limoanco-Gendrano
Executive Chef
,
Arabia, Unilever Food Solutions
Chef Joanne started her career in retail advertising before making the big move to the culinary industry. Now, more than 20 years in F&B, she has gained a wholistic experience by working in different establishments from catering, restaurants, academe and hotel operations.
Right before joining the corporate world, she worked her way up to executive sous chef for a hotel chain in Manila, being one of the first Filipino females to break the male dominated kitchen hierarchies in a 5-star hotel during that time. Aside from her operational responsibilities, she used her position to influence different kitchen departments to incorporate more diversity in terms of gender & backgrounds to build stronger & more progressive teams.
Currently, Joanne is the executive chef for the GULF region & provides UFS culinary support to Maldives and Seychelles. She brings with her a broad experience having worked for UFS culinary in the Southeast Asian region as well as her Pan Asian cuisine perspective to her present team.