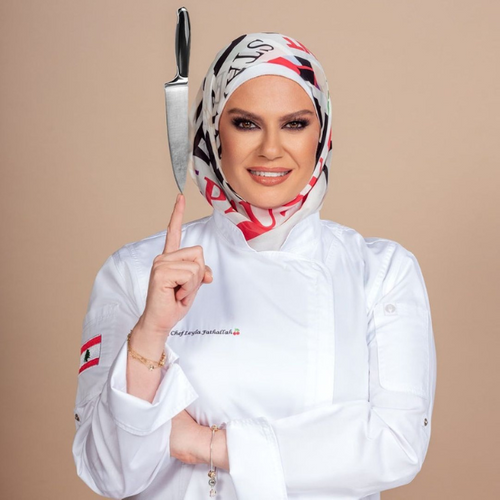 Leyla Fathallah
Celebrity Chef, UNEP Advocate
,
Food Waste in West Asia
LEYLA IS WITHOUT A DOUBT ONE OF LEBANON'S MOST SUCCESSFUL AND BELOVED COOKING SHOW PRESENTERS.
BORN IN BEIRUT IN 1974, SHE TURNED HER PASSION INTO A LIVING, AND STARTED A SMALL CATERING BUSINESS FROM HOME.
SHORTLY AFTER, LEYLA WON THE "STAR CHEF" COMPETITION, AND BECAME THE FRESH FACE OF FATAFEAT CHANNEL. SHE IS THE STAR OF THE FOLLOWING SHOWS:
TESLAM AL AYADI (SEASONS 1&2): FEATURING QUICK HOME RECIPES.
AROUSITNA (SEASON 1&2): TO TRAIN NEWLY WEDS IN COOKING AND PRESENTING FOOD.
YOUR KITCHEN YOUR MIRROR ( season 1&2): DEDICATED TO PEOPLE SEEKING A HEALTHY LIFESTYLE, FEATURING QUICK AND HEALTHY RECIPES.
GOODY KITCHEN (SEASON 1 & 2)
TO FURTHER IMPROVE HER SKILLS, SHE EARNED A DEGREE IN CULINARY ARTS FROM "LE CORDON BLEU" IN LEBANON.
LEYLA'S RECIPES ARE FEATURED IN FATAFEAT MAGAZINE AS WELL AS THE CHANNEL'S WEBSITE. HER SHOWS ARE SPONSORED BY SOME OF THE TOP BRANDS IN THE ARAB WORLD (EG. MAGGI, LUMINARC,PYREX,ALWALIMA RICE,AMERICANA,NESTLE,SADIA, NOOR OIL…)
DURING FIRST QUARTER OF 2017 LEYLA DEVELOPPED RECIPES FOR NOOR OIL, KIRI AND LURPACK
SHE WAS ALSO THE FACE OF GOODY, A LEADING F&B BRAND IN THE ARAB WORLD AND THE NUMBER ONE BRAND IN THE KSA, AND SHE WAS THE PRESENTER OF THEIR SHOW "GOODY KITCHEN" FOR 2 SEASONS.
ADDITIONALLY, SHE HAS ORGANIZED COOKING WORKSHOPS FOR DIFFERENT ASSOCIATIONS SUCH AS BAU, COOK AND EAT LEBANESE, AND PEPSICO AMONG OTHERS.
SHE IS THE AUTHOR OF THE COOKBOOK "SIT BEIT" CONTAINING 100+ INTERNATIONAL RECIPES FOR EVERYONE TO ENJOY, AND SHE PRACTICED TEACHING CULINARY ARTS FOR A YEAR AT THE LEBANESE INTERNATIONAL UNIVERSITY.
Today she is UNEP'S Advocate on food waste in west Asia.