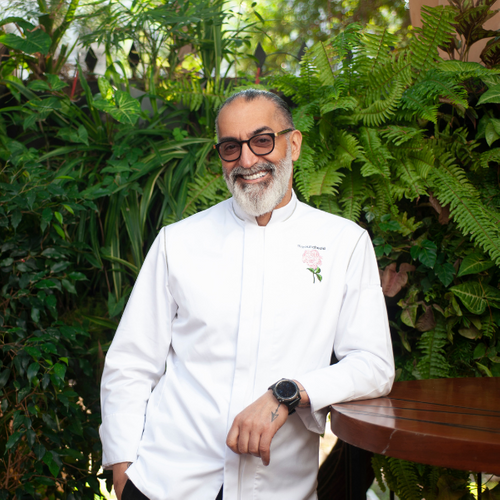 Maroun Chedid
Chef/Owner
,
Maroun Chedid
Maroun Chedid is a culinary artisan who is well-versed in all of the facets of food conception and execution. Maroun grew up in the Lebanese village of Sagh-bine, located in West Bekaa. This area is known for its beauty and the richness of its soil, and its nature has always been a continuous source of inspiration to him. It was only natural that from a young age Maroun was taught to love and respect nature and its harvests. His childhood was spent in the midst of animal farms, with bees and citrus fruits nurturing his senses, and this played a vital role in setting him on the path of his lifelong quest for culinary perfection.
The Mediterranean landscape, with its enchanting smells of orange blossom flowers in the air, the sounds of chirping birds, green valleys, olive trees, and rural living, gave him a heightened sense of respect for nature and its resources. Nature was his mentor, opening his eyes at a young age not only to the diversity and specificities of each product and core ingredient in our nourishment, but also to the wealth and richness of well-thought-out combinations. Summers for him were spent on the South coast of Lebanon, where he was exposed to the wealth of the Mediterranean Sea, with all its beauty and diversity.
These treasures that he found in nature played a vital role in forging his identity as a Chef. This strong connection to the land gives him today an instinctual ability to identify and choose from local and seasonal ingredients. Maroun's experience spans over thirty years in the culinary world. He has played a vital role in developing and growing the business of many restaurants and culinary venues that have become established names around the world. With the richness of Lebanese cuisine and the beauty of the Mediterranean in his heart, Maroun's culinary explorations are never-ending.
Claim to Fame
Judge at TOP CHEF Middle East on MBC