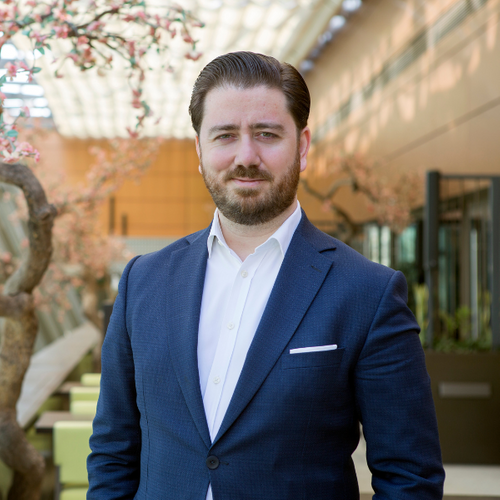 Mehmet Safa Sihlaroglu
 Director of Operations
,
Kraiv Investments 
Mehmet Safa Sihlaroglu joined Kraiv Investments as Director of Operations. Mehmet is responsible for positioning Kraiv Investments as one of the greatest luxury hospitality companies in KSA and GCC countries.
A British National and native of Turkey, Mehmet grew up in the UK's restaurant and hotel industry, working at the local restaurant and hotel culinary scene, with that, he began a culinary apprenticeship, and grew into a chef de partie role before he turned his sights to the dining room, quickly rising to become a captain on the service team.
Then, Mehmet broadened his experience with roles in events companies, FOH teams of hotels, high street and fine dining restaurants from a young age and moved up the ranks within the service team, ascending to the management roles in London where he worked for Chef Anton Mosimann, Tong Chee Wee, Yoshihiro Murata and Heston Blumenthal.
Mehmet is known for his precise attention to detail and dedication to guest experience, which has helped him guide establishments towards many accolades including annual 1-star Michelin ratings at Hakkasan and HKK, and 2-star Michelin ratings at Dinner by Heston Blumenthal which was also ranked number 5 on the World's 50 Best List since 2015, Best Asian Restaurant Award at Yauatcha Riyadh 2022.
Mehmet's extensive previous experience included multiple roles, he is best known for his position as the A.General Manager at Dinner by Heston Blumenthal located in Mandarin Oriental London Hyde Park, General Manager of Ting at Shangri-la London, General Manager of Skylon at Festival Hall owned by D&D Group which won the award of Cateys 2020 Restaurateur Group of the Year, General Manager of Yauatcha Riyadh, which won the Best Asian Restaurant award by Timeout 2022 awards.
He is active in the community and participated in a number of charity bike rides as well as charity runs. In his personal time, Mehmet enjoys the unique dining experiences KSA has to offer and travels as much as possible. He also is a keen motorcycle and super car enthusiast, and owns two motorcycles, one of which is a 1979 model.