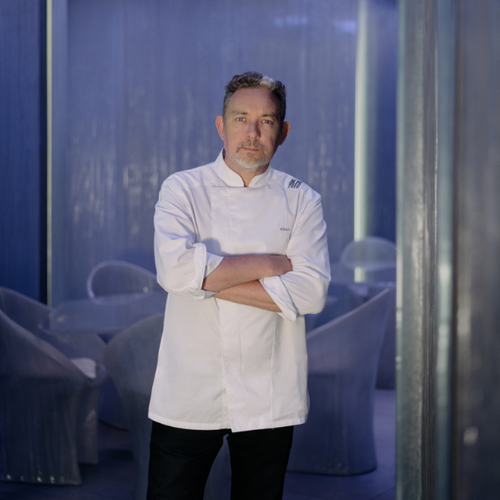 Albert Adria
Albert Adrià was born in the Santa Eulalia neighborhood of L'Hospitalet, the son of Ginés and Josefa. His parents instilled in him an interest in everything related to cooking, but it was his brother Ferran who passed on the passion for the profession.
In July 2010, Albert ended the Inopia project to create, along with the Iglesias brothers, a global project that brought together several restaurants and gastronomic concepts under the name of elBarri. Thus, progressively, Tickets, Pakta, Bodega 1900, 41o, Niño Viejo, Hoja Santa and, finally, Enigma appeared. In 2013, the elBullifoundation was established, with Albert Adrià as a member of the board.
That same year, he published the book "Las tapas de Tickets", with emblematic recipes from the early years of this restaurant.
Albert Adrià's creative capacity has allowed him to go beyond, carrying out high-level consultancy projects and collaborations. In 2015, Heart Ibiza was launched, aimed at exploring the result of the experience through the fusion of music, art and gastronomy. In 2016, he
made his first professional foray outside of Spain with 50 Days by Albert Adrià in London, a pop-up restaurant at the five-star Café Royal hotel, which continued in 2018 with the opening of Cakes & Bubbles, a new pastry and sparkling wine space located in the same hotel.
In 2018, "Tickets Evolution", the restaurant's second and last recipe book, was released. In 2019, Albert and Ferran Adrià became creative collaborators with José Andrés to shape Mercado Little Spain, a genuine tribute to Spanish gastronomy in the heart of Manhattan.
Between 2020 and 2021, during the stoppage caused by the Covid pandemic, which forced the end of the alliance with the Iglesias brothers, Albert strongly resumed his professional career. This is evidenced by the publication of two new books, "Vegetales a todo color" and "Candy", as well as the different projects carried out with companies in the food industry and the new and exceptional collaborations in which he has been a fundamental piece, such as the one carried out with Alain Ducasse in the ADMO project, in front of the Eiffel Tower, which opened its doors in November 2021 as a hundred-day ephemeral restaurant and which represented a productive creative alliancebetween these two great references of French and Spanish gastronomy. In 2022, Enigma reopened, where all the knowledge, technical baggage and experience acquired throughout his professional career are reflected. Currently, Albert dedicates himself full-time to the Enigma restaurant and various R&D projects with food companies.