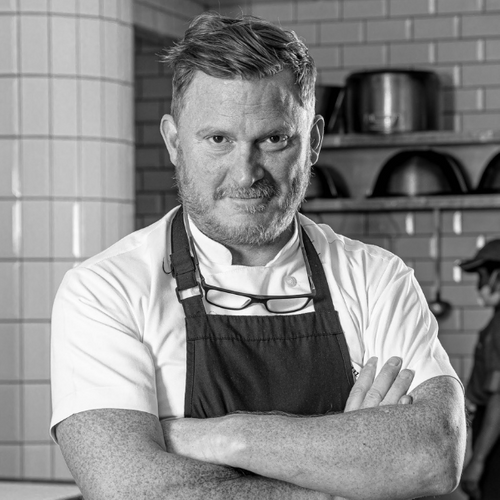 Ian Pengelley
Ian Pengelley has made a significant and inspirational contribution to the popularisation of Pan-Asian Food in Britain and is easily recognised as one of the world's leading chefs in this field. In 2015 Ian opened House of Ho in Fitzrovia as Chef Director, following on from his Executive Head Chef roles at Chai Wu in Harrods, Nozomi in Knightsbridge and eight years at Gilgamesh in Camden, where he won widespread acclaim. He is also a regular Guest Chef on-board Oceania and Regent Cruises worldwide, and from early 2016 has consulted for the Pan-Asian restaurants on-board Marella Cruise Ships.
Pengelley serves an array of Pan-Asian culinary delights, for which he is renowned. Pengelley's eclectic range of dishes includes starters such as Scallop and Foie Gras Dumplings, Smoking Sashimi Salad, Wagyu Beef Tataki and Kari Kari Squid. Mains include Chilean Seabass Marinated in Spicy Miso, Duck and Watermelon Salad and Chicken Toban. Green Tea and White Chocolate Fondant and assorted Exotic Fruit Sorbets are just a couple of examples taken from dessert menus.
Ian has appeared on Good Food live, Saturday Kitchen and now appears on several other popular televised cookery shows, including Celebrity MasterChef. Ian is also a guest chef at numerous national and international food shows including Taste of London which he headlined in June 2015.
Ian Pengelley spent most of his childhood living in Hong Kong where he realised his passion for Asian food and culture. With a strong understanding of Cantonese Ian went on to train in Singapore, Thailand, Malaysia, Vietnam and China before returning home to share his passion for the Orient. Enjoying a successful career working in Cicada, The Birdcage, The Hempel Hotel and as personal chef to Lady Weinberg (Anouska Hempel), his talents were most noted as the launch Head Chef of E&O, Notting Hill in 2001.
In 2005, Ian was approached by Gordon Ramsey to open a joint venture culminating in the Asian cuisine restaurant 'Pengelley's', in Knightsbridge. After a year Ian amicably parted company with Gordon Ramsey Holdings and immediately began work on his next launch project, Gilgamesh.
In 2006, Gilgamesh opened in the heart of Camden Town Stables Market offering an innovative Eastern gastronomic and entertainment experience. A unique Babylonian style restaurant with the capacity for 750 covers, it boasted a glass walled lounge and a fully retractable roof.
In 2014 Ian became Executive Head Chef of the Mango Tree Group with the opening of Chai Wu – a modern Chinese restaurant on the fifth floor of Harrods, having consulted in the past for the group at the Thai restaurant Mango Tree in Belgravia, and both Mango-Tree and Pan-Chai restaurants in the Harrods Food Hall. He then went on to open House of Ho as Chef Director in December; a modern Vietnamese restaurant in the heart of Fitzrovia serving authentic Vietnamese dishes with a twist. Including the iconic Wagyu Short-Rib Pho, Shaking Beef and Lemongrass Chicken. Following a successful year at House of Ho London, Pengelley went on to open House of Ho Malta in April 2017.
In 2020, Ian collaborated in opening the first branch of Myazu in Riyadh, Saudi Arabia which later have won the best restaurant in Saudi Arabia in 2021 by 50-Best Awards and no. 15 by 50-best Awards Mena. In the same year, he also collaborated in opening the second branch of Myazu in Jeddah, Saudi Arabia.
Alongside this, Ian joined Japanese restaurant Nozomi Knightsbridge as Executive Head Chef in 2014 and as a consultant for the launch of the Nozomi restaurant franchises in the middle east. He opened Nozomi Riyadh in Saudi Arabia in November 2014, as well as launching the restaurants outside catering division, and has since become Group Chef for the company. Nozomi Riyadh won best restaurant in Saudi Arabia in 2015 and best restaurant in the middle east in 2016. In 2017 he went on to open Nozomi Jeddah as well as a franchise of Los Angeles-based Urth Caffe in Riyadh.