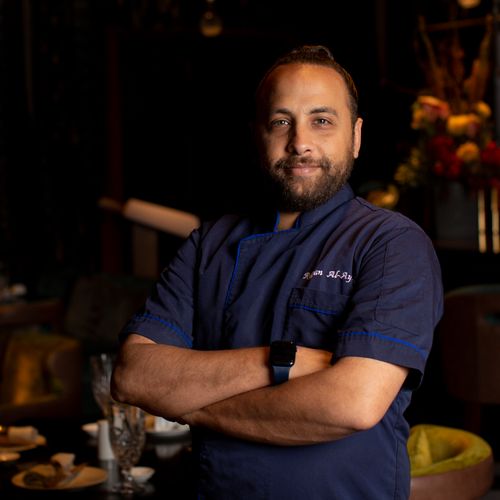 Rayan Alayesh
Chef
,
Kayzo by Myazu
Saudi Arabia
Saudi Arabian national and seasoned professional, Chef Rayan Alayesh, is a talented culinary professional who, even at a young age, started making a remarkable mark in the world of gastronomy with his expertise and innovative approach to cooking.
With an innate curiosity and interest for the culinary arts and patisserie, Rayan's journey began at the prestigious Le Cordon Bleu College in London where he pursued a Diploma in the Culinary Arts and French Patisserie, honing and refining his skills to acquire a solid foundation in the culinary arts.
Upon completing his education, Chef Rayan joined the coveted Saudi-based hospitality company MFC, known for their commitment to culinary excellence. His association and career trajectory at MFC has spanned over five years, during which he has consistently demonstrated and showcased his talent and dedication to his craft.
Chef Rayan's first venture within MFC was the launch of Urth Caffe in Jeddah as Head Chef. Under his guidance and direction, Urth Caffe became a must go-to culinary destination, solidifying Chef Rayan as a standout in the country's gastronomic scene.
Thanks to this recognition, Chef Rayan took on the sought-after role as Development Chef at Myazu, the acclaimed and highly anticipated restaurant and concept created by MFC. Myazu garnered widespread acclaim and popularity, earning the prestigious title of 'Best Restaurant in Saudi Arabia' for two consecutive years. As Development Chef, Rayan played a pivotal role in elevating the fine dining menu, crafting exciting and memorable culinary experiences for guests. Combining traditional techniques with a modern flair, Chef Rayan and Myazu have consistently left a lasting impression on diners.
Continuing his ascent in the culinary world, Chef Rayan has recently taken on the role of Development Chef at Kayzo by Myazu, a brand-new homegrown concept launched by MFC. His vision for creating a sophisticated dining destination, all at a reasonable and attainable price.
Throughout his illustrious career, Chef Rayan has continuously displayed an unwavering pledge for excellence, excitingly challenging the norms of traditional cuisine. His zeal for culinary arts, combined with his creativity and attention to detail, has largely established him as a highly respected chef within the industry. With his remarkable noteworthy achievements and relentless pursuit of ingenuity, Chef Rayan aims to be an inspiration for aspiring chefs, looking to make their own mark in the culinary world.