28 May 2023
Exploring Saudi Arabia's Culinary Possibilities: An Exclusive Interview with Chef Maroun Chedid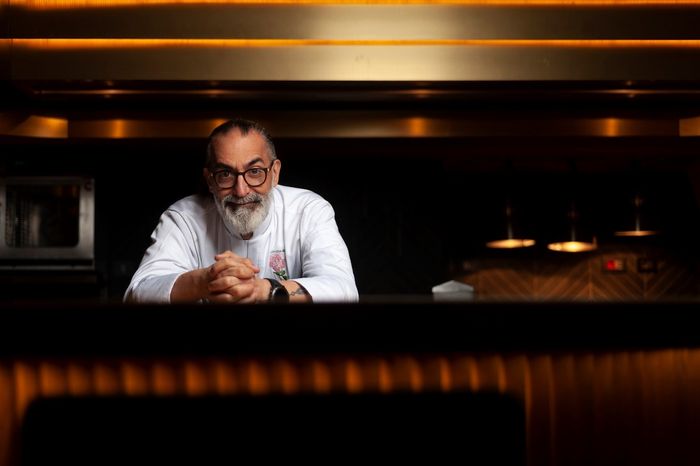 In the ever-evolving world of food and beverage, industry events play a vital role in keeping professionals and enthusiasts abreast of the latest trends. The Saudi Food Show, held in Riyadh, has emerged as a crucial platform for the F&B industry, fostering growth and establishing the Kingdom as a prominent player in the region. In an exclusive interview, we had the privilege of speaking with renowned chef Maroun Chedid – Lebanese chef entrepreneur who stars in MBC's Top Chef Middle East who shared his insights on the significance of events like The Saudi Food Show, his contribution to The Saudi Food Show, culinary trends, and Saudi Arabia's future as a global culinary hub.
As the F&B industry in Saudi Arabia experiences the start of a significant boom, Chef Maroun emphasizes the importance of events like The Saudi Food Show. He states, "Events like The Saudi Show become primordial to help industry professionals as well as F&B aficionados get together and stay up to date with the latest trends." Furthermore, he believes that hosting such an event in Saudi Arabia not only promotes growth within the industry, but also showcases the Kingdom as a major and dynamic player in the regional food scene.
Expressing his excitement about his involvement in The Saudi Food Show's Top Table feature, Chef Maroun says: "Being part of such a great event honours me, especially at a time when we are witnessing how KSA's food industry is being revolutionized and transformed." He plans to conduct an intriguing masterclass and participate in enlightening discussions, and relishes the opportunity to connect with fellow chefs, industry leaders, and friends.
Shedding light on current culinary trends, Chef Maroun states that comfort food remains consistently popular worldwide. However, he highlights the rising popularity of Asian and Middle Eastern cuisines. "I believe reinterpreting dishes, particularly within the comfort food realm of these cuisines, and adapting them to different markets across the globe will be a significant trend in the coming years." He envisions a thrilling yet familiar experience for diners, as they rediscover beloved dishes presented in a fresh new light.
When discussing his contribution to Saudi Arabia's culinary heritage, Chef Maroun emphasises his unrestricted approach to food creation. With a mastery of European techniques and a deep understanding of the Saudi culinary heritage, he aims to reintroduce traditional Saudi classics with contemporary twists, preserving the cuisine's authenticity while infusing it with innovation. He confidently states, "My ability to combine authentic traditional Saudi cuisine with a flair of contemporary cooking methods would undoubtedly help expand that rich Saudi culinary heritage and take it to the world!"
Chef Maroun also highlights Saudi Arabia's potential to become the next global culinary hub, citing the rapid economic development and the Kingdom's proactive efforts to promote tourism as key contributing factors. "Becoming the next global culinary hub is one of the key strategic objectives that would mutually serve the growth in tourism and add a reason for potential visitors to put the Kingdom on the global culinary and touristic map." Saudi Arabia's focus on enhancing its culinary offerings aligns with its ambition to attract a diverse range of visitors, and establish itself as a vibrant destination for food enthusiasts.
Events like The Saudi Food Show not only serve as crucial platforms for industry professionals and enthusiasts, but also contribute to the growth and recognition of Saudi Arabia's F&B industry. Chef Maroun's participation and innovative culinary approach exemplify the Kingdom's commitment to elevating its culinary heritage while embracing contemporary influences. With its rapid economic development and emphasis on tourism, Saudi Arabia is poised to become the next global culinary hub, captivating the taste buds of visitors from around the world.
"In combining traditional Saudi cuisine with contemporary techniques, I aim to create a culinary experience that pays homage to the Kingdom's rich heritage while propelling it into the global spotlight. Saudi Arabia's culinary scene is undergoing a remarkable transformation, and I am thrilled to be a part of this culinary revolution, contributing to its growth and sharing its flavours with the world."