04 Jun 2023
Meet the Saudi entrepreneurs defining F&B in the Kingdom in 2023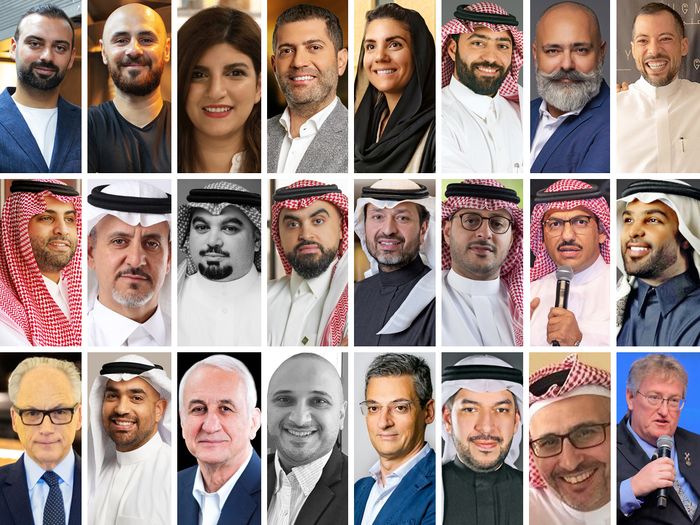 Saudi Arabia's hospitality industry has seen significant growth since the announcement of Vision 2030 and the Kingdom opened up to the world.
Key players have spearheaded the meteoric rise of the F&B scene, contributing to its diversification and expansion by pushing boundaries, fostering innovation, and preserving culinary heritage. Here we bring you 23 of the most inflential people in the Kingdom right now.
ABDULAZIZ AL MOAJIL
CEO, AL MOAJIL
The Kingdom of Saudi Arabia has entered a new era of gastronomy and hospitality, and one of the companies leading this pioneering change is Al Moajil Hospitality, the group behind some of Saudi's biggest new restaurant openings.
The fast-growing company was founded by chairman Mohammed Saad Al Moajil, whose passion for food harks back to his childhood. This premium restaurant group is dedicated to enriching the Kingdom's F&B scene with award-winning international and homegrown concepts that would elevate Saudi Arabia as a global gastronomy destination. In a partnership with London-based restaurateur Marios George of Cavadore Group, Al Moajil brought the celebrated Knightsbridge-born contemporary Japanese restaurant NOZOMI to Al Khobar in 2021. Just eighteen months later he launched the acclaimed brand in the Kingdom's capital of Riyadh.
NOZOMI Riyadh has fast become one of the go-to spots in the city for Japanese cuisine. The chairman simultaneously developed two Saudi-born fine dining concepts Belgravian Brasserie and Greek restaurant Hellenika.
AHMAD AL ZAINI
CEO, FOODICS
Ahmad Al Zaini, a serial entrepreneur and the CEO of FOODICS, identified the lack of F&B technology in the market and founded the company in 2014. Together with his co-founder, he developed a comprehensive tech stack and created an integrated ecosystem to address operational challenges in the food and beverage industry. FOODICS has since become the leading cloud-based technology and payments platform for restaurants in the MENA region, serving various segments including dine-in restaurants, cafes, quick-service restaurants, bakeries, food trucks, and cloud kitchens. Al Zaini's leadership has propelled FOODICS' growth, culminating in its recent licensing as a Fintech company by the Saudi Central Bank. The company made its first acquisition with POSRocket and raised US$170 million in Series C funding. With over 600 employees, FOODICS now operates in multiple countries and offers end-to-end restaurant management and fintech solutions. Al Zaini's entrepreneurial achievements and dedication to innovation have earned him prestigious awards and recognition in shaping Saudi Arabia's future.
AMRO BAGEDO
CEO, KRAIV
Amro Bagedo, a dynamic entrepreneur born in Saudi Arabia, aims to revolutionise the dining scene in the Kingdom and GCC by bringing his experience from London. Growing up in the UK, surrounded by diverse cuisines, Bagedo was inspired to develop his own F&B concepts in Saudi Arabia. With a strategic approach and a deep understanding of quality, he creates restaurants that connect with guests and ensure growth. His first concept, KOA Jeddah, opened in November 2021, offering elevated cuisine and a luxurious yet laidback atmosphere. Bagedo plans to expand further in Jeddah with a design-led boulangerie and chocolaterie, as well as across the GCC with a Parisienne health-food franchise called Cojean. His ambition and business acumen aim to establish Saudi Arabia as a culinary destination with innovative concepts.
ASSAD NUMAN
CEO, HUNGERSTATION
HungerStation, a popular food delivery aggregator in Saudi Arabia, has become deeply ingrained in the country's culture. Led by CEO Assad Numan, a prominent figure in Saudi Arabia's food and beverage industry, the platform has experienced remarkable growth since its humble beginnings in Al Khobar. Numan's leadership has enabled HungerStation to expand rapidly, attracting top talent and investors in the global delivery market. Today, the platform operates in over 100 cities and villages across Saudi Arabia, as well as in cities in Bahrain. Numan's extensive experience includes management positions at UberEats, Samsung Electronics, and Gulf International, further solidifying his expertise in the field. HungerStation's success exemplifies the increasing prominence of food delivery services in Saudi Arabia.
ATA ATMAR
MANAGING DIRECTOR, BATEEL INTERNATIONAL
Dr Ata Atmar has played a pivotal role in Bateel International since 1999, revolutionising the global gourmet food industry. As an economist and former professor, he has transformed Bateel's image by elevating the humble date fruit to a luxurious retail and F&B offering. Collaborating closely with Bateel's founder, Dr Ziad Al Sudairi, Atmar marketed and developed dates as premium Swiss chocolates. Under his leadership, Bateel has emerged as a leading brand in the gourmet food sector. Dr Atmar's forward-thinking vision focuses on creating and leading the market for organic gourmet dates and date confectionery in Saudi Arabia and beyond. Bateel prides itself on providing top-quality gourmet products and luxurious experiences, while embracing innovation and maintaining its heritage as a distinctive and exceptional brand.