20 Apr 2023
Could Riyadh be the Middle East's next culinary capital?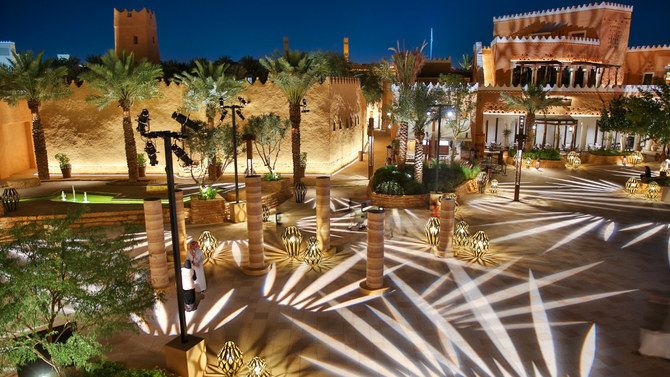 Dozens of Michelin-starred restaurants have come to the Saudi capital over the past three years
Local and foreign diners can now enjoy an array of international and traditional Saudi foods in Riyadh
RIYADH: In a high-end restaurant, polished glasses sit atop a sleekly designed wooden table surrounded by lush green plants. On the table are spreads of artfully presented Greek specialties: tzatziki, Santorini salad, eggplant dip and beef gyros tacos. At first glance, a diner might think they were in the Greek isles, or at least an upscale Mediterranean restaurant in London or Dubai.
This eatery, however, is Meraki Riyadh, the popular upscale Greek restaurant chain which first opened in London in 2017 and launched in the Mandarin Oriental Riyadh in September 2021. While Meraki would hardly shock diners in any other global city, in Riyadh — a metropolis which once had a comparatively bland food scene — it might come as a welcome surprise.
Over the last three years, a multitude of fine dining restaurants have opened in the Saudi capital, coinciding with Saudi Arabia's grand social and economic transformation spearheaded by Vision 2030. Crown Prince Mohammed bin Salman's ambitious reform plan aims to increase household spending on cultural and entertainment activities to 6 percent, up 2.9 percent from when the Vision was unveiled in 2016.
Sushi, caviar, tapas, babka bread, dim sum and fondue — dozens upon dozens of international dishes are now being served in the Saudi capital as some of the world's best restaurants and chains open alongside the rise of homegrown Saudi outfits serving a mix of traditional and fusion fare.
"Riyadh has, without a doubt, a really exciting restaurant scene," Ciara Philips, a British cultural strategist who moved to Riyadh at the end of 2020, told Arab News.
In a country where nearly 70 percent of the population is under the age of 40, bolstering the Kingdom's entertainment and hospitality sectors is of prime importance — not just for the influx of foreigners, but also for locals who, until a few years ago, were unable to find such a vast selection of food.
"I've lived in world cities from New York, to London, Paris and Dubai … it's up there with the best, if not surpassing, in terms of local food entrepreneurship, trendy food concepts, incredible interiors, and exceptional service and hospitality," said Philips. "Attention to detail, as well as the love and positive embrace of the new, and a burgeoning night-time economy all add to that vibrancy."
"This is matched with the genuine warm welcome and generosity of Saudis — food is shared and gifted so often at work and when receiving guests in the home — and I'm carrying the extra pounds to prove it," Phillips said.
In November 2022, Saudi lifestyle curator Cool Inc announced that it would bring around 20 restaurants that hold coveted Michelin stars in their home cities are bringing their culinary offerings to Riyadh and Jeddah this year. Such names will add to the growing list of top outlets in the capital and Jeddah, which already include the Cantonese cuisine of Hakkasan, Japanese restaurant Roka, the French delicacies of La Petite Maison, and Italian fine dining restaurants such as Scallini, Angelina, and Cipriani.